CAAE Institutes
CAAE offers several professional development opportunities that provide members with new perspectives and creative approaches to the work that they do as senior alumni thought leaders. During our Winter and Summer Institutes members explore changing and evolving perspectives on the profession, examine emerging and innovative ways to engage alumni and other constituents, review compelling alumni-relations and philanthropic research, discuss issues and trends impacting the field, and enjoy opportunities for peer-to-peer networking.
Recent Topics and Discussions
Transforming How We Engage Alumni Online
Emerging Approaches to Alumni Professional and Career Development
Social Alumni Engagement: Benchmarking and Best Practices
Thorny Issues with the Dependent, Independent, and Interdependent Structures for Managing Alumni Relations
Benchmarking, Metrics, and Measurement for Alumni Relations
Data-Driven Approaches to Alumni Attitudes and Engagement
Winter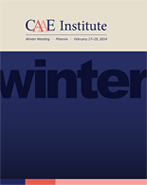 The CAAE Winter Institute is a three-day, in-depth exploration of new thinking, creative approaches, and proven best practices in alumni and constituent relations. The annual event takes place in mid-February in Arizona.
Learn more about the February 2020 Winter Institute:

Summer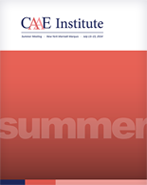 The CAAE Summer Institute is held concurrently with the CASE Summit for Leaders in Advancement. This "meeting within a meeting" provides members with an opportunity to engage in high-level conversations with other advancement leaders around the issues and challenges facing higher education.
Learn more about the July 2020 Summer Institute: